Deepen Your Connection With Nature
A Lemurian Nature Retreat & Soul Activation (online)
Wild Women, Healers, Priestesses & Priests, Witches & Magicians, Nature Lovers, Pioneers and Bridgemakers, join me for this Lemurian Nature Retreat. 
24 July – 22 August 2021
Your deep connection with nature is an amazing gift. Are you aware of that?
You might have been feeling quite alone and unappreciated with your deep sensitivity and love for all living beings.
You might have felt lost and misplaced on this planet, feeling safe and loved only in the company of plants and animals.
I know how that feels.
As a child I spent a lot of time out in nature, often with my grandma's dog, immersing myself into the beauty of nature. These are some of my best memories.
Nature is so fascinating. I honestly haven't felt like watching tv in a while. Drop me off somewhere in nature and I'll be happy!
Sitting outside in the grass or next to a lake feels like watching the discovery channel every time. Actually, it feels so much better, because I can feel that I'm a part of it and how nature is speaking to me.
For a long time, though, when I wanted to know what my soul gifts were, my inner child would show me that she's most happy when she can be in the forest by herself, looking at plants and insects and communicating with fairies.
And my grown-up self didn't like this answer at all. It wasn't practical. It didn't promise success or money. And it made me feel like an outcast – like the only one who couldn't enjoy herself in crowds, but had to become a hermit and spend time with nature.
By now I know that I'm not the only one. And I know that being connected with nature doesn't mean we have to become complete hermits and stop doing stuff we love.
It can coexist. We can live our lives, be part of a community and be appreciated just the way we are – with all of our gifts and quirks.
Now that I've finally accepted my abilities to communicate with nature for my own fun and well-being, it has actually become part of my mission to help other nature lovers and messengers of nature to understand the importance and value of their gifts too.
You might feel like it's all your imagination. But let me assure you: your gifts are real.
If a certain animal keeps showing up in your life, it has something to tell you.
If you feel like a plant is speaking to you, trust yourself and listen.
It takes time to open up to and understand these gentle nudges. Nature is not forcing us. She's here waiting, until you feel safe to connect and open up.
So the question right now is: are you ready to listen and gain a much clearer understanding of the gifts you carry?
Are you ready to deepen your connection with nature?
Next round will be in summer 2022
Sign up for my newsletter to be informed when registration opens
♡ have always felt a deep connection with nature and know that you are meant to create change by co-creating with mother Earth
♡ feel a strong call to make a difference in this world by living your truth, even it it upsets, triggers or seems "out there" for others
♡ feel a deep truth vibrating through your cells when calling yourself a messenger of nature, a nature warrior, or a nature priest*ess
♡ are ready to follow this calling and face any fears and resistance towards this inner truth so that you're no longer held back by self-doubt, fear of judgment or procrastination
♡ long to fully understand and accept all the magic and gifts you bring so that you can see the value in them, feel confident about them and feel safe to share them with the world
What Shifts & Changes Can You Expect from Taking Part in This Program?
My intention for the Lemuria Nature Retreat is to assist you in reconneccting with your deep truth as a messenger of nature, a warrior for nature and/or a nature priest*ess.
This program will support you to gain a deeper understanding of your gifts that relate to co-creating and working with nature and all of your nature allies.
And to make things really tangible, we will ground them into your reality. I want you to have a clear understanding of the practical implications of your gifts.
Being able to understand the real value of your gifts will make it so much easier to feel confident about them and to use and apply them in your daily life.
There will be group activations and clearings that will help release fears and resistance in a gentle way. It will make it easier for you to actually see and feel who you truly are at your core.
In addition to these energy transmissions you'll have the opportunity to ask questions and receive guidance and support throughout the whole month. You can do so either at our live gatherings or in our online community.
What Are Some examples of Actual Gifts & Co-Creation With Nature?
The examples I'm sharing come either from my own process of awakening and remembering my gifts and/or from having supported many awakening messengers of nature, warriors of nature and nature priest*esses in 1:1 Sessions and Programs. Know that your experience can include many more gifts. We are every expanding beings!
So here are a few examples:
♡ activating your psychic senses and communicating with your spirit animals, plants, crystals and/or nature beings so that you can feel every day that you are not alone, but a part of the web of life
♡ using your intuition and psychic gifts to take care of your plants and grow your garden or find a new place to live where you can be more connected with nature
♡ embracing your connection with your nature allies as a natural aspect of who you are – the more you do this, the more they'll show up with guidance, love and support throughout your day (I love this!)
♡ getting to know and working with different nature spirits to raise the vibration in your home as well as the area you live in or specific places you are guided to work with (This comes in handy when you're surrounded by denser energies – it makes such a difference!)
♡ co-creating projects, like for example blog posts, podcasts, videos, books or card decks, with nature, because she really wants more and more people to remember how connected we all are (A personal example would be my journey and co-creation with jaguar & the rainforest, and my co-creation with the whales)
♡ deepening your connection with mother Earth so that you feel safe and loved, because you know deep in your heart that you are a child of the Earth (this is great, if you tend to feel a lot of anxiety)
♡ deepening the connection with your physical body, because the body is just a mirror of mother Earth – the more we connect with her, the more we come home within (this came as a surprise that shifts A LOT)
♡ gaining a better more intuitive, understanding of what your body wants and needs and feeling good about taking care of yourself in a loving way (makes things much easier 🙂 )
…and many more… 
3 Live Energy Transmissions
We will meet 3 times on powerful dates to work with the incoming Lemurian frequencies.
During these calls you'll receive a potent energy clearing and activation that will help you reconnect with your innate Lemurian wisdom and learn more about how we are meant to co-create with nature in order to envision a new Earth.
There will be time and space to share and ask questions, so that you can make the most of this time.
Practical information:
When:
– July 24 – full moon
– August 8 – Lion's Gate & new moon
– August 22 – full moon
Calls take about 60-90 minutes.
To accomodate to different time zones the calls will take place at 12pm CET / 6am New York / 11am London / 8pm Sydney.
In case that time doesn't work for you, feel free to let me know. If it's an issue for more of you, I might be able to add another call.
In any case, it's no problem, if can't make it live to one or all calls. The recordings are just as powerful.
You will receive a recording of each live session, so that you can listen again and continue to go deeper by yourself.
Online Community
For the time of this online retreat you can be part of an online community outside of Facebook. You can connect with soul family, share your insights or questions, and receive support and guidance when needed. Moreover, I'll be sharing information and energy transmissions as I feel guided.
Access to 1:1 Support at a Special Rate
In case you feel drawn to go even deeper and receive guidance and insight that is channeled for you personally, you'll have the opportunity to book one or more Ancient Healing Gifts Sessions for € 111 instead of € 220 till September 12, 2021. This is a rare opportunity, because I want to support you as much as I can through this intense upleveling through the Lion's Gate.
I am an intuitive channel and healer, a priestess and energy alchemist, a nature lover and artist.
I will be your hostess and guide.
While I've always felt a deep connection with nature, I've only recently learnt what it really means to be this embodied on planet Earth and connected to the web of life.
I needed to learn to pay attention to the little signs, nudges and whispers from my nature friends, and integrate their messages into my life.
I guess, what held me back a long time from owning my gifts of sensitivity and being able to communicate with nature, was a fear of the responsibility this might bring. There was a deep fear of having to fight a battle I'm not prepared for in order to "save" the Earth.
My experience was quite the opposite:
Nature doesn't ask us to be someone we're not. She simply loves us and wants us to be happy as who we are.
The gentle, loving souls who anchor the light, weave frequencies, co-create with their gardens, and change the world through their loving presence are just as important as the warrior souls who thrive standing in the front row of a crowd fighting and shouting for change.
Nature supports us to live and thrive according to our divine blueprint. There's no judgment, no expectations. She wants us to be who we really, truly are.
And as children of the Earth we naturally long for this deep love and connection. It is the healing balm we all crave.
It's time to come home on this Earth and live according to your unique truth.
Are you ready, gentle soul? ♡
Are you ready to deepen your connection with nature?
The next round will take place in Autumn 2021
Sign up for my newsletter to be informed when registration opens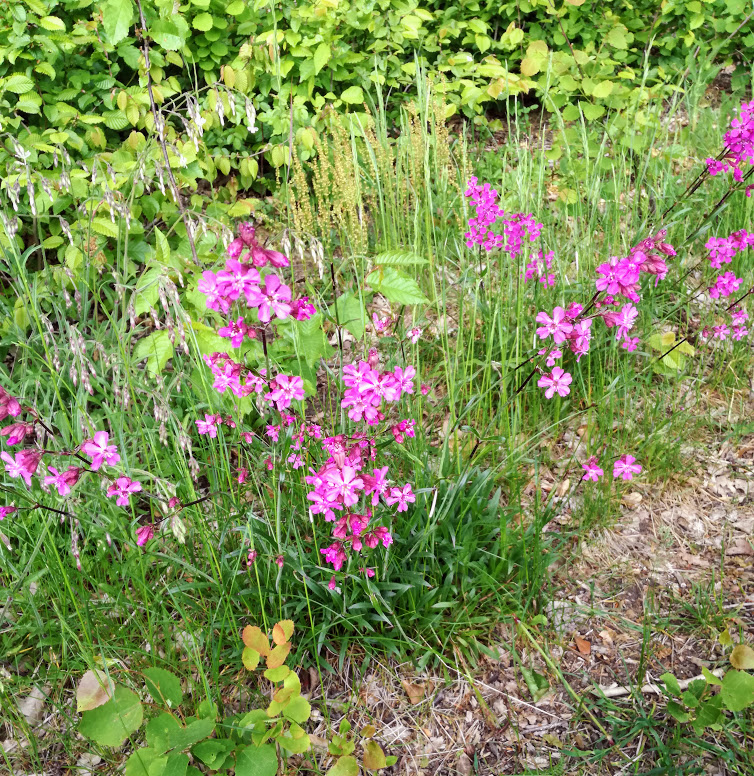 Get to Know Me
In case you wish to get a feel for me and the Lemurian energy I bring through, feel free to watch the latest Wild Woman Energy Forecast below. (A slight word of warning, though: I recorded this next to a waterfall and the background noise is a bit loud when you start the video. Just turn down the volume a bit before you start, and you should be fine. Other then that, enjoy!)
If you have any questions and want to make sure that this offer is right for you, feel free to email me or book a free Connection Call.
Kind words about my work:
"What a wonderful call this morning Deborah!! Thank-you soooo much!
I love how you really created a beautiful safe still place, imagery and ideas for us to make that deep connection with Mary Magdalene in our own unique ways! And gave us plenty of time to embody that fully!
You've filled in the missing pieces of the jigsaw in my perception of how to connect with Mary Magdalene!
And now it's as if I'm going back in time through all my encounters with her in places and events and upgrading it to really feel and embody that sense of the Divine Mother within myself!!
Thank-you so much again!! Divine feminine blessings to you! XXXX
"I loved the recent Mary Magdalene and Jesus Christ live calls. I'd been feeling for a while like I was out of balance with the masculine and feminine and I was really aware of the separation between these two 'halves' of my body.
When we started the energy journey, the feminine felt really strong and instant, whereas the masculine side was sort of hanging by the wayside a little bit.
As we went through the meditation, it almost felt like the masculine side re-inflated; like the energy was pumped back into it and it felt really expansive.
In the end, it balanced out to feel more equal. It was a really powerful and even magical experience! Thank you Deborah
"
"I would like to thank you for this beautiful circle on Monday. It was so powerful and gave me the strength I needed to let go and to stay motivated for my current project. So magical. Thank you!"
"Working with Deborah was a wonderful experience. I have never worked with a healer or intuitive with such power and capabilities. I'm still speechless about how much has shifted and been released in only one session."
"I have been lucky enough to work with Deborah in 1:1 sessions and group online programs. Before I started my soul journey with her I had never meditated. My sessions have been focused on self-love, working with my intuition and connecting with my sacred sexuality.
The meditations are beautiful and clear and I come out feeling perfectly aligned. My reiki healer has found  since working with Deborah my chakras are now  balanced and energy flow is strong. 
"Dear Deborah, thank you for your soul reading. There's so much love energy flowing through your words I am bowled over. It's like a tangible wisdom wave! You were very accurate and the action steps provided were so helpful. Thank you once again."
"Thank you Deborah for this powerful energy transmission! I just watched the replay and the words that really got me to soften, release and cry were 'remember how to be a woman'…
It was a deep, deep longing that came up and was made visible. Thank you for those tears and insights… so much inside that has been suppressed. Wow.
Thank you so much for everything you've shared with us and for shining your light!"
"Wow. Oh my goodness. Thank you so much. This was tremendous. I've never experienced anything like this. I knew taking part in this class was important to me and the time felt so right and perfect for me. 
I've had some physical adjustments done yesterday and I felt the energy was supporting this on a deeper level, realigning my body and straightening the whole spine. There was even a loud crack in my neck with the release.
There was really tremendous energy here. I've never felt anything this powerful before. And I've been to a lot of energy alignments and DNA activations over the last 7-9 years. I've been through all kinds of energy practices over the years. This is by far the most powerful thing I've felt. I'm so appreciating this. Thank you so much. This has by far exceeded my expectations."
I have recently taken part in the energy transmission based on the divine masculine and Jesus Christ. Normally I would avoid such themes because of the religious connotations. However, the way Deborah explained the divine masculine really drew me in.
I have found the process led by her was a deeply transformative experience.
For me the whole call was all about the lungs and the spine and about the connection. I kept moving throughout the session, because I'm used to do more moving meditations.
After the call I felt that my vertebras were much better aligned, there is more freedom in my ribcage, in the fascia especially around the diaphragm, there was a noticeable release. It was really powerful and I was getting really clear.
I really appreciated that there was so much focus on the embodiment and physical integration. Exactly my thing. Thank you!
And I will be coming for more of Deborah's work.
"What changed during our session amazingly was: my heart! My heart that had felt like a small, contracted coin opened up and all of a sudden felt completely free and spacious and it could reconnect with my belly and my whole body.
I can finally breathe into my heart and with my heart – open, free and wide! It feels simply amazing. Thank you, dear Deborah, for this wonderful, incredible joint work!"
© 2016-2019 Deborah Kindermann-Zeilinger